上海浦东新区民办常青藤幼儿园自2017年9月成立以来,严格按照上海二期课改课程教学,也积极研究探索拓展性课程。学校认真组织幼儿园全体教职员工召开IB PYP动员会议及PYP课程研讨会议。会议向每一位老师阐述了PYP课程的内涵、特征和目标,在未来教学中,探究方式、教学方式、合作方式将要发生的改变和对学生以及自身产生的有益影响。
Shanghai Pudong private Ivy kindergarten was approved in September 2017,it has been actively studying and exploring the course of expansion in accordance with the curriculum of the second period of reform in Shanghai. Since then, all the faculty and staff members of the kindergarten have been organized to hold IB PYP mobilization meeting and PYP Course Seminar. The conference elaborated to each teacher the connotation, the characteristic and the goal of the PYP curriculum. In the future teaching, the change of the way of inquiry, the way of teaching and the way of cooperation will change and the beneficial influence on students and themselves.
PYP课程着眼于一个孩子全面的发展,不仅是课堂中不同的学科,面对这个世界也是一个勇敢的探究者。在这样的教育动力的驱动下,PYP培养了人重要的五种技能:思考技能(thinking skills), 社交技能(social kills), 沟通技能(communication skills), 自我管理技能(self-management skills), 研究技能(Research skills )。
Under the such a power driven Education,PYP training five important skills for people: thinking skills, SOCIAL kills, social skills and communication skills, self-management skills,Research skills.
The PYP course focuses on the overall development of a child, not only a different subject in the classroom, but also a brave explorer in the face of the world.
上海浦东新区民办常青藤幼儿园(Shanghai Ivy School)经过3个多月的努力,目前正式全面启动IB PYP认证(IBIS Code:060797),向IB组织成功递交了全部申请材料。作为一所准IB幼儿园,对于IBO提出的73条课程标准和实践要求(standards and practices)以及学校师资配备和软硬件设施方面在前期都进行了细致的准备。
After 3 months' efforts, Ivy Kindergarten has officially launched the IB PYP certification and submitted all the application materials to IBO successfully. As a quasi IB kindergarten, for the 73 curriculum standards and practice requirements proposed by IBO, Ivy kindergarten has prepared everything carefully in early stage,such as faculty,facilities and software,etc.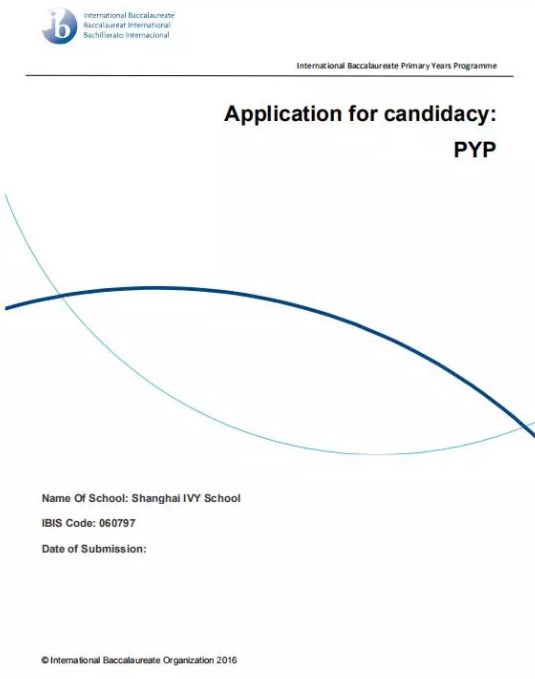 国际文凭组织(IB)教育理念
International Diploma Organization (IB) education concept
国际文凭组织(IB)简介 Introduction
国际文凭组织(International Baccalaureate,简称IB)成立于1968年的瑞士日内瓦,由一群力图用教育打造一个更美好的世界的国际学校教师而共同创造出一个高质量并富有挑战性的教育体系。经过近五十年持续地发展壮大,国际文凭组织(IB)至今与158个国家的超过4,500间(截至2016年5月)国际文凭世界学校(IB World School)合作,为遍及全球的学生提供高标准的连贯国际教育,依序为小学项目、中学项目、大学预科项目及国际文凭职业教育证书项目(如下图所示)。
The International Baccalaureate Organization(IB) was founded in 1968 in Geneva, Switzerland. It is a high-quality and challenging educational system created by a group of international school teachers who are trying to build a better world with education. After nearly fifty years of sustained development, the International Baccalaureate Organization (IB) has 158 countries with more than 4500 (as of May 2016) IB World School (IB World School) cooperation, to provide a high standard of coherence for international education throughout the world of students, in order for the primary school project, middle school project, university preparatory project, the International Baccalaureate certificate and Certificate of International Diploma in Vocational Education project (as shown below).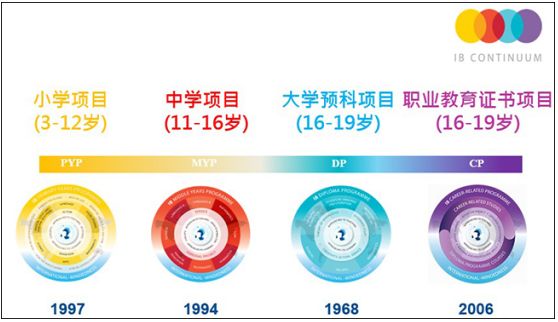 IB教育使命宣言
IB Declaration on educational mission
国际文凭组织的目标是培养勤学好问、知识渊博、富有爱心的年轻人,他们通过对多元文化的理解和尊重,为开创更美好、更和平的世界贡献力量。
为了实现这个目标,国际文凭组织与众多的学校、政府以及其它国际组织进行合作,开发出一系列具有挑战性的国际教育项目和严格的评估制度。
这些项目鼓励世界各地的学生成长为既积极进取又富有同情心的终身学习者,他们理解尽管人与人之间存在着差异,但他人的意见也可能是正确的。
The International Baccalaureate Organization's goal is to foster the inquisitive, knowledgeable and caring young people through their intercultural understanding and respect, contribute to create a better and more peaceful world.
To achieve this goal, the International Baccalaureate Organization has worked with numerous schools, governments and other international organizations to develop a series of challenging international education projects and strict evaluation system.
These projects encourage students from all over the world to grow as active and compassionate lifelong learners. They understand that although there are differences between people, others' opinions may also be correct.
国际文凭学习者培养目标
Training goals for International Diploma learners
基于国际情怀的教育理念,国际文凭组织(IB)发展出一套《国际文凭学习者培养目标 IB Learner Profile》,条列出十项身为国际文凭学生于授业期间应培养的人格特质及其获得的成果,即积极探究、知识渊博、勤于思考、善于交流、坚持原则、胸襟开阔、懂得关爱、勇于尝试、全面发展和及时反思。这些特质代表着广泛的人类能力和 责任,智力的发展和学业的成功已不能满足当今这个快速发展的社会。《国际文凭学习者培养目标 IB Learner Profile》简洁地描绘了一个协作互助的全球小区的愿景,所有人都具有人类本质的博爱精神,愿意一同分担守护地球的责任,帮助开创一个更美好及更和平的世界。
The feelings of the education based on the concept of the International Baccalaureate Organization (IB) to develop a "educational target IB Learner Profile", a list of ten as the International Baccalaureate Students to teach during cultivating personality and achievements, namely to actively explore, knowledgeable, diligent in thinking, good at communication, adhere to the principle, broad-minded, caring, dares to attempt, comprehensive development and timely reflection. These traits represent a wide range of human abilities and responsibilities, and the development of intelligence and the success of their studies have not been able to meet the rapid development of today's society. "Educational target IB Learner Profile" succinctly depicts a collaboration cell global vision, everyone has the essence of the human spirit of fraternity, willing to share the guardianship of the planet, help to create a better and more peaceful world.
国际文凭组织幼小项目IB-PYP(3-12岁)
IBA Juvenile project IB-PYP (3-12 years old)